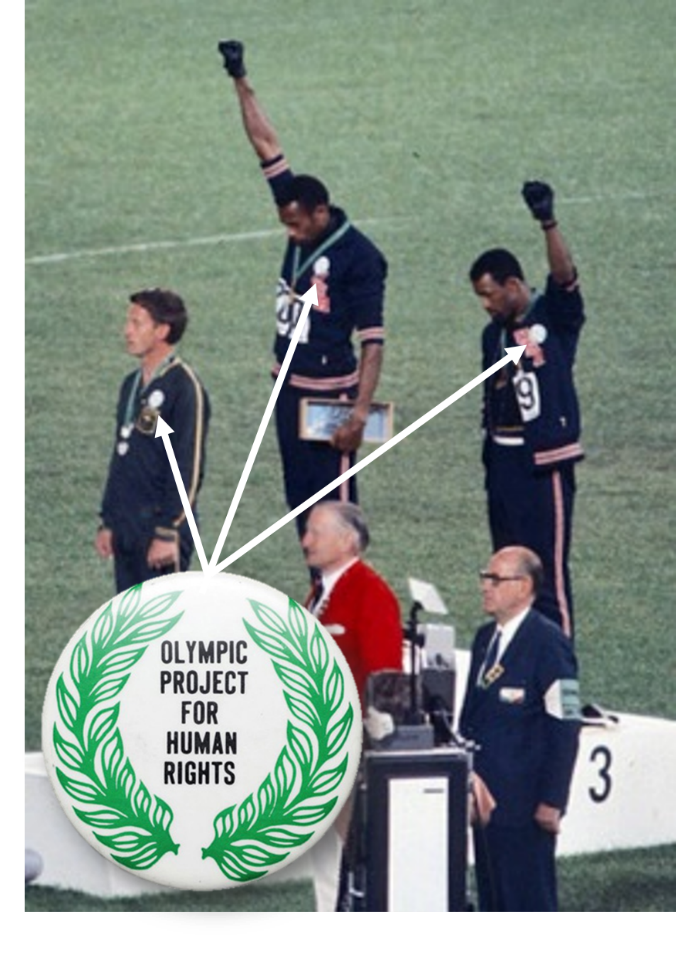 Three men walked up to the medals podium at the 1968 summer Olympic games in Mexico City. They were about to receive their medals for the men's 200 meters. All three men were wearing The
Olympic Project for Human Rights (OPHR)
badge on the left side of their jackets. Wearing unapproved emblems is not allowed in the Olympic Games. They defied that policy.
Two of the men were Tommie Smith and John Carlos of the United States.
They show an
additional
act of defiance by giving a Black Power salute during their national anthem
. They were protesting both racial inequality and black poverty. What's often not seen is that they were not wearing shoes on the podium to symbolize poverty.
In his autobiography Tommie Smith later said that the salute was not a "
Black Power
" salute, but a "human rights salute"
.
The action they took on the podium is one of the most impactful political statements in the history of the modern
Olympic Games
.
Smith and Carlos's actions caused an uproar in the US. Both men
were sent
home from the Olympics and
severely
ostracized. Death threats
are made
against them and their families. Their act of defiance makes headlines across all the US news media. But today both are
widely
accepted as heroes for standing up for what they believed in. They amplified the message of the civil rights movement on a world stage.
But what about the third man? He wore the
The Olympic Project for Human Rights (OPHR)
badge on his jacket as well. What happened to
Peter Norman
(the silver medalist) from Australia?
It's not well known but there was also a civil rights movement in Australia in the 1960s. Aboriginal and non-aboriginal activists were campaigning for equal civil rights for indigenous Australians.
They were fighting for the repeal of laws which deprived indigenous Australians of their civil liberties
. By wearing the OPHR badge on the Olympic Games podium Peter Norman also showed an act of defiance. A white Australian man stands up for what he believes in on the world stage. You see, Smith and Carlos didn't ask him to wear the badge, before the ceremony he asked them if they had another one.
Like Smith and Carlos, Peter Norman
was ostracized
for his act. For the act of wearing the OPHR badge on the podium that day. He made headlines across the Australian news media and is "
unofficially
" black balled from his sport.
He
is denied
a spot on the 1972 Australian Olympic team even though he qualifies at
a number of
pre-Olympic events
.
John Carlos later stated that "If we were getting beat up, Peter was facing an entire country and suffering alone
." Banned from the sport he loved Norman makes a living coaching. Throughout his life he has problems with drugs and alcohol and dies in 2006 at the age of 64. At his funeral Smith and Carlos are among his pallbearers.
It takes the Australian government 44 years before they
officially
recognize Peter Norman.
In their apology they state, "The Australian Parliament apologizes to Peter Norman for the treatment he received upon his return to Australia, and the failure to
fully
recognize his inspirational role before his
untimely
death in 2006
."
In an interview in 2012 John Carlos says " There's no-one in the nation of Australia that should
be honored
, recognized, appreciated more than Peter Norman for his humanitarian concerns, his character, his strength and his willingness to be a
sacrificial lamb
for justice
."
On October 1968 he wore a simple badge on his jacket. A badge that demonstrated what he believed in.
Peter Norman is still the Australian 200 meter record holder.
R2BB